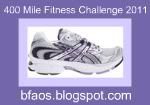 This fitness challenge is hosted by Ellie at
Books, Fitness & Other Stuff
hop on over there for more information.
My fitness this week:
Sunday February 13, 2011 WATP DVD = 1 mile
I had planned on walking at least 3 miles, but just couldn't go past 1 mile. Oh well at least I completed it, better than sitting on the couch right?
Tuesday February 15, 2011 20 min of weight lifting = 1 mile
My husband, son and I are doing the weight lifting together, we spot each other, count and encourage each other to keep going. Wow did I feel good after the weight training.
Wednesday February 16, 2011 WATP DVD = 3 miles
My favourite move ~ kick backs. I started to hit a wall about 1 1/2 miles, pushed through
Thursday February 17, 2011 30 min of weight lifting = 2 miles
This week: 7 miles
Total to date: 10.5/400
Signing off till next time