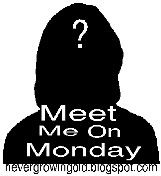 Meet Me On Monday is a Meme hoted by
Never Growing Old
Every Sunday Never Growing Old will post five get to know you questions that you can copy and paste into your own Monday post and we can all learn a little more about each and every one of us!!
"Its a great way to to meet new friends ....one Monday at a time!!!"....as quoted by the Chacogirl!! I will make this SIMPLE and FUN!!!
This is my first time participating, so here we go.
1. Did you get any Valentine's Gifts?
No, and I'm not expecting anything this year, I was spoiled at Christmas. We will have a nice quite dinner at home.
2. What is your favorite topping on something toasted?
I love butter and Raspberry Jam on toast.
3. Do you pick out your outfit the night before?
No, I usually make decision in the morning.
4. What food item do you absolutely despise?
I've givin this question a lot of thought and I cannot think of anything I despise.
5. Righty or Lefty?
Righty
Signing off till next time.