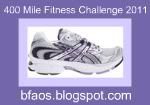 This fitness challenge is hosted by Ellie at Books, Fitness & Other Stuff hop on over there for more information, just follow the link picture above.
Ok, the past two weeks weren't great for me, the first week was a four day work week and I don't know about anyone else but I find short weeks soooo long. Why does it work that way? I got an eye infection and the hubby had the tennis elbow.
The second week I was suffering with sinus headaches and the last thing I wanted to do was exercise. Oh well as long as we get back on the wagon. Hopefully next week will be better. :)
My fitness
Sunday February 20, 2011 WATP DVD = 4 miles
Monday February 21, 2011 WATP DVD = 1 mile
This week: miles
Total to date: 10.5/400
Walk strong. Signing off till next time.